Filter by Category
Industry & Trades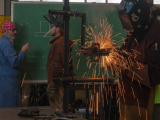 Welding Principles 24 hours
with Matthew Brown, Sallisaw Campus

Mar 23, 2020 at 6 pm
Explore basic welding for home, shop repair, and professional-level welding. Covers gas cutting and welding, Arc, MIG and TIG welding as skills develop. Additional supply charges may apply.
Small Engine Maintenance & Repair
with Justin Chapman, Sallisaw Campus

Mar 31, 2020 at 6 pm

, runs for 3 weeks
Identify parts, disassemble and reassemble small engines, troubleshoot and repair. Designed for all levels.
Forklift Safety Certification
with Matthew Brown, Sallisaw Campus

Apr 18, 2020 at 8 am
Safely operate a forklift; covers recommended practices aligned with OSHA standards and regulations.