Filter by Category
Education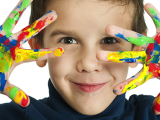 CDA Pathway (Child Development Association)
with Tracey Barger, Sallisaw Campus
"Pathway to CDA" transitions to "Pathway to your National Credential". This is a 150 hour curriculum endorsed by the Oklahoma Early Care Organizations and aligned with state and national guidelines. Units 5 & 6 are coverded in this course of the total of 10 units in this curriculum. The cost listed is for all 10 units.
Please contact Misty Linthicum at (918) 775 -9119, ext. 4069 for more information.
Special Education Paraprofessional
with Marian Turner, Sallisaw Campus

Sep 15, 2018 at 8 am
Paraprofessionals assist teachers in the classroom with instructional and non-instructional activities for students in special education. This course prepares paraprofessionals to provide services to children and youth with disabilities in Oklahoma schools and is designed for existing paraprofessionals or individuals wishing to prepare for a special education paraprofessional career. Book included.
Will run