Filter by Category
Languages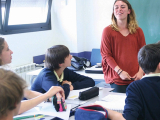 Conversational English for Spanish Speakers
with Mary Jones, Tahlequah Campus

Nov 7, 2019 at 6 pm
Communicate in English with simple statements, common expressions and body language.; learn shopping and travel terms.
Spanish for Beginners
with Mary Jones, Tahlequah Campus

Sep 5, 2019 at 6 pm
Communicate in Spanish with simple statements and expressions. Learn to speak with imperative sentences using common daily expressions, body language, shopping terms or travel terms.
Full Course