Filter by Category
Business, Computers & Technology
Beginning Computers with Microsoft Office
with Kerri Watkins, Tahlequah Campus

Nov 1, 2022 at 6 pm

, runs for 3 weeks
Learn basic computer terms, components and navigate the Windows environment. Then, choose a Microsoft Office product for a more comprehensive focus.
Will run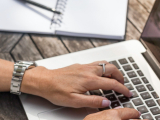 Silver Screens-Computer Basics
with Kerri Watkins, Tahlequah Campus

Nov 8, 2022 at 6 pm

, runs for 3 weeks
Learn to FaceTime with the grandkids and all the basics of Internet searches, sending emails, preparing and saving documents and more. Bring your own flash drive. This class will be on break the week of Nov. 21 for Thanksgiving. You can enroll here or call Mike Meigs at 918-708-3696.
Will run
Smartphones for Savvy Seniors
with Kerri Watkins, Tahlequah Campus

Dec 6, 2022 at 9 am

, runs for 1 week
Learn to get the most out of your smartphone. Designed for seniors but ideal for anyone who needs to learn the ins and outs of the smartphone for either work or fun.
Will run