Filter by Category
Private Security
Phase III: Private Investigator
with Robert Jones, Tahlequah Campus

Oct 29, 2019 at 6 pm
Prep for the CLEET Phase III exam; cover response to clients, law of private investigating, Fair Credit Reporting Act, techniques of investigating, and relaying Information. Prerequisites: Unarmed Security Guard Phase I & II and related exam. Includes CLEET Phase III exam cost.
Will run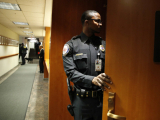 Phase IV: Armed Security Guard
with Randy Tanner, Tahlequah Campus

at 5 pm
Prep for CLEET certification and become an armed security guard; two programs of in-depth training; handgun and shotgun. Must pass qualification tests after each program. Prerequisite: Phase I & II, MMPI test, and CLEET interview.