Filter by Category
Industry & Trade
Auto Body for Hobbyists
with Don Marlow, Muskogee Campus

Nov 27, 2017 at 6:30 pm
Considering auto body repair as a career or just an auto enthusiast? Start here! Learn the basics of auto body repair in this hands-on, project-based course. Practice painting, dent repair, and welding with professional grade refinishing equipment. NOTE: Students must provide personal projects.
Course will run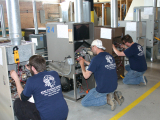 HVAC Refrigeration
with Don Ballew, Muskogee Campus

Oct 18, 2017 at 5 pm
Study automatic controls used in light commercial and residential HVAC oeprations. Classroom activities include hands-on lab exercises, shop demonstrations, and mechanical simulations. This class prepares you for the EPA class that allows you to take the EPA certification exam.
PREREQUISITE: HVAC Electrical
Course will run
Small Engine Maintenance & Repair
with Bobby Gerhart, Muskogee Campus

Nov 7, 2017 at 6 pm
Start your engines! Learn the basics of the four cycle engine and outboard motors including part identification, how to disassemble, reassemble, and troubleshoot. This class is designed to teach different knowledge levels of small engine repair and maintenance. Whether you are a novice, amateur, or professional there is something for everyone to learn.