Filter by Category
Digital Media
Digital Photography with Editing
with Holli Christie, Tahlequah Campus

Nov 7, 2017 at 6 pm
Take pictures with purpose! Explore your camera's built-in settings, use basic photo editing to correct common errors, and add a little shine to your pictures. You will be allowed class time to take photos in this hands-on-course. Gain access to online resources including free editing software for personal use. Showcase your work in an art show (optional). NOTE: Your own digital camera and flash drive are required. Computers will be available during class time for photo editing.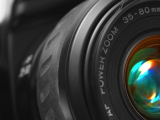 Digital Photography with Editing
with Holli Christie, Tahlequah Campus

Feb 21, 2018 at 6 pm
Take your digital photographs to a new level with new advanced photography editing skills. This hands-on class is a must for students who enjoy making the most of their digital photographs.