Filter by Category
Culinary Arts
Cake Decorating with Fondant
with Stilwell Campus

Oct 17, 2017 at 6 pm
, runs for 4 weeks
Fondant is a type of icing used to make anything from a smooth cake surface to a number of decorative shapes. It can be tinted, flavored, modeled, formed, twisted, and imprinted. Learn how to make professional-looking cakes and desserts with this special type of icing.
Note: Additional supply charges may apply.
Cup Cake/Cake Balls
with Lauren Gilstrap, Stilwell Campus

Nov 28, 2017 at 6 pm
, runs for 4 weeks
Learn how to bake delicious cup cakes and cake balls in this hands-on class that also provides secrets of baking and decorating. Note: Additional supply charges may apply.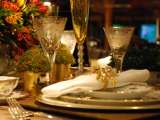 Registration Unavailable
Fine Dining
with Rebecca Atwell, Stilwell Campus

Oct 23, 2017 at 5 pm
This course is designed to expose students to a formal dining setting using good conduct, etiquette, and social skills. Employment opportunities will be discussed and promoted. PREREQUISITE: Serve Safe class and Basic Cooking Skills class (or comparable skills). Additional supply charges may apply.