Filter by Category
Computer Technologies
Marketing Your Business With Social Media
with Mark Miller, Muskogee Campus

Sep 11, 2018 at 6 pm
Social Media is the single most important aspect of modern day marketing. Learn how to use different social media platforms such as Facebook, Twitter, Instagram, LinkedIn, Pinterest, and YouTube to promote your business in this hands-on class.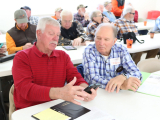 Smartphones for Savvy Seniors
with Wes Casey, Muskogee Campus

Nov 8, 2018 at 5:30 pm

, runs for 3 weeks
In this short course, learn how to use your smartphone. Check, save and/or send emails, text, and photos. Learn how to browse the internet and shop online.
Will run