Filter by Category
Cake Decorating
Cake Decorating
with Janette Houston, Muskogee Campus

Aug 13, 2018 at 5 pm
Cake decorating is more than spreading on the icing. Learn the secret to keeping your cake fresh for days and how to create leaves, roses, rosebuds and borders. Learn intricate designs like glazing, piping, and scripts. Join this exciting class and work at your own pace. Whether you are a pro or an amateur, come to learn a new skill or sharpen the skills you already have.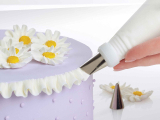 Cookie Decorating
with Janette Houston, Muskogee Campus

Oct 1, 2018 at 5 pm
Mix cookies, make icing, use designs and a variety of decorating techniques to create unique cookes. You need to furnish un-iced cookies. Additional supply fees may apply.